Meat Smoking
Here's how it works. Come down to Reis Meat Market and purchase your meat and seasonings for your Chourico. Bring it all home, season it to your taste and stuff it. Then, bring it back to the market and for $50 we will smoke it for you using only the best white oak around.
Catering
Whether you are planning corporate events, conferences, parties, special events, small or large gatherings, we can cater for you. We are committed to providing the highest quality foods as well as professional and courteous service to our customers. Menus can be customized to reflect your taste and budget limitations.
Meat Shipping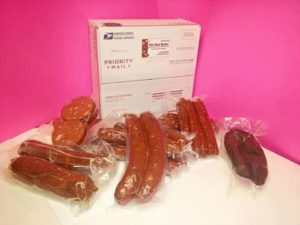 We ship our home made Chourico (hot/mild/mouro), Linguica, Morcelas, Sal Picao, Chourico Patties, Linguica franks, and more anywhere around the country. So you can enjoy it here in Fall River or in sunny Florida, or on a rainy day in Washington state! Call us today for more information, 508-678-3401.